Integrated Resistor-Capacitor
Integrating a resistor into the top electrode of a capacitor to achieve space-savings within highly integrated devices while contributing to improved tact time by having one less part to place.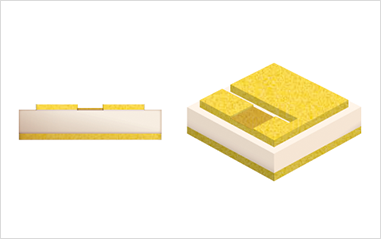 Contact Us for Help
We get it. It's tough to find the perfect passive components with all the possible size, thickness, electrode, dielectric, capacitance and resistance options from among our thousands of part numbers. Our Product Search Engine is a great place to start, but for an immediate response just give us a call at 408-748-0100 (USA) or contact us electronically using our contact form, tell us your requirements and we will find you the perfect part for you.
Integrated Resistor-Capacitor Part Numbers

Metal Stacks
Depending on the ceramic dielectric used and electrode configuration, we use different metal stacks to achieve best mechanical and electrical performances. The different stacks we may use are as follows.
| | |
| --- | --- |
| Top | TaN – TiW – Au |
| Bottom | Ti – Pt – Au |
Selection Guide | Active Part Number Spectrum
Table cells can be clicked to reveal applicable part numbers and a link to the spec sheet for details. The different colors represent the different dielectric material used as below.
Thickness: 10 mils ± 1 mil (0.250 mm ± 0.025 mm)
*V tolerance for capacitance is not available.
| | |
| --- | --- |
| Dielectric | K = 16,000 |
| Rated Working Voltage | 100V |
*This is the rated voltage for the capacitor section.
Temperature Coefficient of Resistance (TCR)
-100 ± 50 ppm / °C (@ – 55 °C to + 85 °C )
Resistor Rated Power
50Ω:
100 mW (@ < 70 °C)
70 mW (@ < 70℃ to 85 °C)
100/200Ω:
50 mW (@ < 70 °C)
35 mW (@ < 70℃ to 85 °C)
Heat Resistance
320C x 5 min Max in N2 gas environment
Related Sites