Standard Product List
0.1mm
0.15mm
0.2mm
0.25mm
0.30mm
0.40mm
0.50mm
0.60mm
Series
kaika1
kaika110
kaika115
kaika120
kaika125
kaika130
kaika140
–
–
kaika6
kaika610
kaika615
kaika620
kaika625
kaika630
kaika640
kaika650
kaika660
kaika7
–
–
–
–
kaika730
kaika740
–
–
–
–
–
–
kaika730P
kaika740P
–
–
kaika8
kaika810
kaika815
kaika820
kaika825
kaika830
kaika840
kaika850
kaika860
kaika10
kaika1010
–
–
–
–
kaika1040
–
–
*Compatibility with third-party manufacturer printers has been confirmed internally though is subject to change. Tecdia doesn't guarantee perpetual compatibility.
kaika1 Series
Our exclusive nozzle design eliminates the need for Teflon tubing, ensuring optimal filament melting. Generally used on printers like Flash Forge.
kaika6 Series
Featuring a precise 30-degree sharp internal taper angle. Additionally, we've extended the standard 60-degree outer diameter slope to an impressive 120 degrees, resulting in superior cushioning, smoother tip impact, and optimal heat capacity. Generally used on printers like Prusa.
kaika7 Series
Experience versatility with Series 7, offering two distinct threading options. Choose the one that perfectly matches your equipment for seamless integration. Generally used on printers like Zortrax.
kaika8 Series
Featuring a two-stage taper design with an 80-degree outer diameter slope and a sharp 120-degree tip. This unique configuration enhances cushioning during tip impact, ensures a smoother operation, and guarantees ample heat capacity. Generally used on printers like Ender.
kaika10 Series
A large head with an outer diameter slope of 120 degrees, offering excellent heat retention capability. Shortening the threaded section reduces the risk of thread loosening and damage due to vibrations during printing. Generally used on printers like Ender-5 S1.

Features:
 1: Seamless Filament Extrusion with an Advanced Internal Design.
Ensuring smooth filament extrusion is vital, which is why we've engineered the internal taper of our kaika nozzles to be free of any steps or irregularities—a feature borrowed from our acclaimed ARQUE precision dispensing nozzle series.

2: Eliminating Leakage and Material Buildup via Inlet Chamfer Removal.
We have eliminated unnecessary gaps between the nozzle and remainder of the hot end, effectively preventing material accumulation and blockage.

3: Optimized Outer Diameter for Both Priming and Fine Detail Coating.
We have precisely set the end face area of the difference between the inner and outer diameters of the nozzle tip to its optimal value. This innovative design allows for precise extrusion in fine details and facilitates efficient ironing.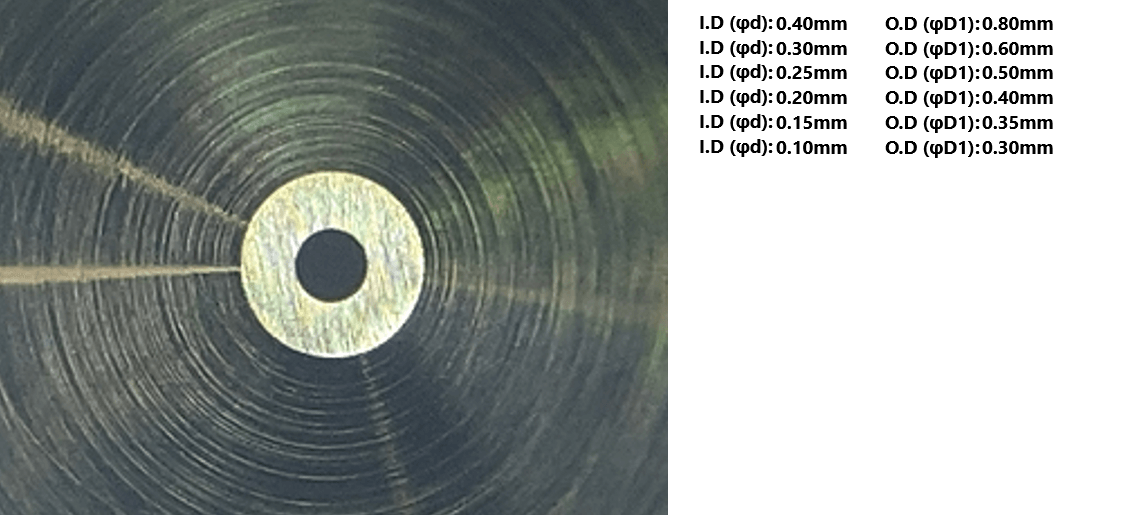 4: Achieve Precise Printing with Reduced Inner Surface Roughness.
Through our unique processing technique, we meticulously polish any scratches or irregularities that may occur during the nozzle's internal manufacturing. This results in a smoother surface, enhancing material flow and enabling precise and consistent printing.

5: Benefit from Serial Number Management for Tracking and Upgrades.
Each nozzle is uniquely engraved with a serial number, allowing easy tracking in case of anomalies and facilitating improvements in future models.
Website for Purchasing
You can purchase the precision 3D printer nozzle (kaika) from the official online shop listed below.
Related Sites