A Ground Block without side wall metallization that uses a conductive ceramic.
To combine the benefits of metal and ceramic Ground Blocks Tecdia has developed a Ground Block which uses a conductive ceramic with gold electrodes on the top and bottom side of the component.
Conductive ceramics not only possess the physical characteristics of ceramics, but they also allow electricity to flow same as any other conductor. This means that current can pass directly to ground without flowing around the side surfaces. This shortens the electrical path and makes low resistance, high accuracy signaling possible.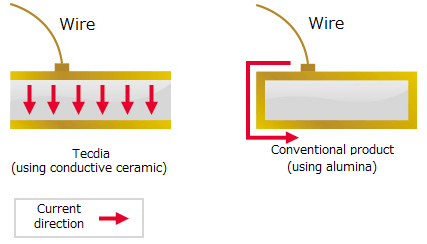 Furthermore, the removal of the metalized side walls suppresses creep-up of adhesive when mounting. This prevents wire-bonding adhesion issues cause by adhesive, contributing to an improved product yield.