The Puredyne® print head and precision dispensing needles from the Japanese manufacturer Tecdia were used.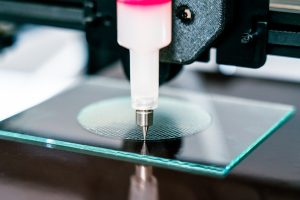 The print head has an integrated compressed air supply and is mounted on a bioprinter via a bayonet fitting with the single-use cartridge. Controlled by a stepper motor, the progressive cavity technology installed in the cartridge enables process-reliable and precise dispensing.
The dispensing needle, which is connected to the print head via luer lock, offers great potential for improving print quality: Experiments had shown that the risk of shearing of cells in the biomaterial is greatest in the dispensing needle. However, it is imperative that these cellular structures are protected. Although printing microscopically fine 3D objects is de facto not a big problem today, printing living cells reproducibly via extrusion is. In addition, the dispensing process must not only be precise but also fast in order to protect the cells.